10 States That People are Leaving and 10 States that People are Moving to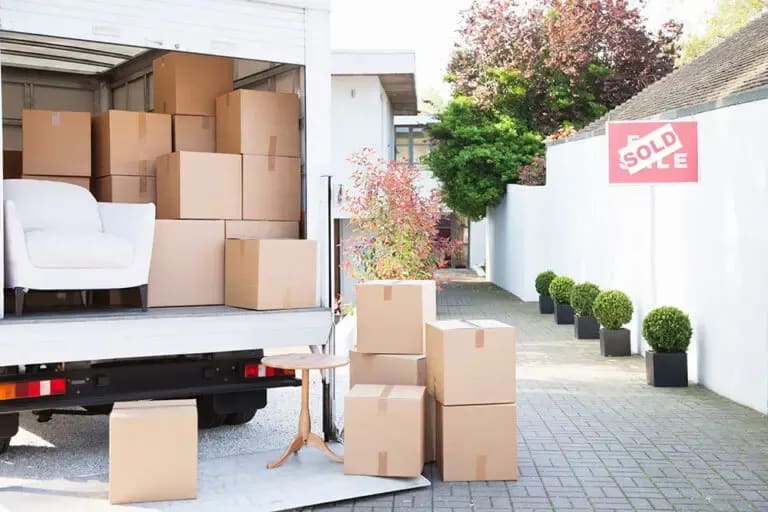 According to Forbes.com, now, more than ever people are moving long distance and here's why:
Events over the past few years, many as a result of the Covid-19 Pandemic, have brought up more challenges and opportunities for people. Many have decided to explore new places and move away from what is familiar to them.
The United States Postal Service address-change-request data shows that permanent address change requests jumped 3.3% to over 10.2 million between 2019 and 2020. The year 2021 showed similar results with only a gradual drop in numbers from 2020. This data implies that many are leaving large cities and colder states for less congested areas and warmer climates.
Why are People Moving?
According to data, the majority of people stated that the main reason for moving over these last few years was related to work. Moving to be close to family ranks just a little bit behind moving for work now. Lifestyle and retirement moves saw a slight percentage increase last year, both categories are up nearly 5% since 2015. Retirement numbers will continue to increase as people reaching the age 65 will increase. Health-related moving decreased a small percentage while cost of living moves increased by 3.7%.
10 States People Are Leaving
According to USPS change-of-address data, these are the 10 top states people are leaving.
1. California
-2021 saw a net loss of over 101 thousand households in California
-Rising housing costs, rising taxes and politics are driving many people to look elsewhere
-Rising threat of wildfires and the constantly increasing cost of living
-Many families from the state are relocating to Texas
2. New York
-Sky-rocketing increase cost of living
-State and federal taxes are driving factors
-The pandemic drove workers who spent a lot of time in the office to work remotely
-Relocating allows workers to live closer to extended family members
-New York saw a net loss of over 75 thousand families last year
3. Illinois
-Opportunities for employment and better housing are the leading cause of the population decline
-Tax rate is a major factor in reasons for leaving
-Weather, high traffic levels and crime only increase the declining population
4. Pennsylvania
-Job losses resulting from the pandemic is the main reason for the decline of 18 thousand-plus households
-The unpredictable weather is also a factor
-Many families are seeking better employment odds in nearby states
-Search for a lower cost of living
5. Massachusetts
-Retirement and work motives are the main reasons behind Massachusetts' population decline
-There was a net loss of 15,489 households in the state last year
-The recent push towards remote work allows families to choose more suburban living versus high-density population
6. Washington
-Washington has a sky-rocketing cost of living
-The Evergreen State experienced a loss of over 13 thousand families in the last year
7. Colorado
-Colorado's politics have shifted towards the left in recent years
-Conservatives are leaving the state for states like Texas and Arizona
-Overall, 12,145 families fled Colorado last year
-Traffic congestion, increasing crime rates and pollution are driving many people to leave
8. Indiana
-Lower than average pay resulted in an average loss of 12 thousand families
-Indiana's neighboring states pay better
-The state's taxing of retirement income
9. Michigan
-Retirement, family and employment opportunities are main reasons for leaving the state
-The state has not the best working conditions compared to neighboring states
-Michigan had a net loss of nearly 11 thousand households last year
10. Wisconsin
- Around ten thousand families left Wisconsin last year than moved in
-A major reason for fleeing the state was due to the pandemic
-The state's high tax rates and harsh weather were the deciding factor for emigrants
10 States People Are Moving To
Majority are southern states where taxes are low and there is a lot of sunshine.
1. Texas
Texas gained over 12,700 residents overall in 2021
-The state's conservative political environment has a pulling factor
Low taxes, a robust economy, a low cost of living and excellent weather round out the list of why Texas is a popular destination.
2. Florida (Hurricane Ian has affected this)
-Taxes, affordable housing, sunshine and relaxed Covid restrictions are the main reasons for an influx in residents
-Sandy beaches and tropical weather are a magnet
-Great place for retirees and is now attracting a younger crowd with jobs
3. South Carolina
-Similar reasons to Florida's population increase
-Search of green space
-Remote work allowing families to move closer together
-Strong job market keeping existing residents there
-Net gain of over 10 thousand residents last year
4. North Carolina
-Reasons for more residents are work, family and weather-related
-North Carolina's topography makes the state one of the most desired places to live
The state saw a 9,000 person net increase in 2021
5. Georgia
-Georgia had a net population gain of just over 5,000 last year
-Outdoor activity opportunities
-Tropical summers, mild winters, beaches and plenty of mountainous terrains
-Low housing costs
-Strong job market
6. Tennessee
-Tourism, a net gain of over 4,500 families
-Low cost of living, low taxes, expanding job market and natural beauty
-Perfect location for retirees and young families
7. Nevada
-Population grew by over 3,100 families last year
-Popular with retirees for its weather
-Proximity to adventure-laden places in its five neighboring states
-Low cost of living
8. Maine
-Relatively lower-cost than neighboring New England states
-Net influx of over 2,500 families recently
-Offers all of the benefits of New England, living without the crowds or the expense
-During the pandemic, remote workers and people looking for new employment relocated to the state
9. Delaware
-Delaware is another popular place to move to in New England
-Low taxes, affordable housing, its own strong job market and its located close to nearby financial stronghold states
-Still enjoy all the attractions of east coast living
-The state increased by almost 2,200 families last year
10. Idaho
-A place to leave crowded, expensive west coast states
-Low cost of living
-Close enough to the water without living right on the coast
-Agriculture and medicine are both booming job markets that are also driving the population increase
-Nearly 1,800 more households came in than left last year